My Uncle Rob
This childrens' story is actually
a true account of the author's friend
and "uncle" Rob Cunningham,
who developed Parkinson's Disease,
yet continued to pursue his dream
as an artist.
My Uncle Rob is illustrated with original art
by Rob Cunningham.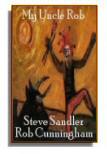 Baby Girl or Baby Boy
"How to make a Baby Girl," and "How to make a Baby Boy" are written by a Doctor and a Nurse and contains the medical knowledge couples want to know on natural gender selection techniques--a "how-to" manual on how to make a baby girl or baby boy. We encourage and support couples to have children no matter which sex or gender. We understand that people have preferences and desire to learn more on the subject of gender selection.